TENNAIR Conference 2021: "Defining a New Normal"
August 4 – August 6, 2021
Chattanoogan Hotel
Chattanooga, TN
The Tennessee Association for Institutional Research (TENNAIR) is pleased to host the 2021 Annual Conference in Chattanooga, TN, August 4-6, 2021!
TENNAIR's Annual Conference is an opportunity for current and aspiring institutional research professionals, scholars, and students to showcase innovative research and ideas pertaining to the field of institutional research or to Tennessee's current postsecondary context and landscape. The last year has been a challenging one and institutional researchers have often been tasked with understanding impacts of COVID-19 on our students- in addition to increasingly demanding reporting requirements.
Thus, in accordance with the theme of "Defining a New Normal", a full slate of keynote speakers, panelists, pre-conference workshops, roundtables, and concurrent sessions have been developed considering topics such as:
How institutions handled challenges during the global health crisis;
Student experiences during COVID-19 and their perception of institutional responses and precautions;
The effects of COVID-19 on students and institutions;
Identifying best practices for institutional research, effectiveness, and assessment in a new normal and across postsecondary sectors;
Assessing and addressing equity gaps in postsecondary education;
Analyzing, visualizing, and showcasing student success measures.
Schedule at a glance: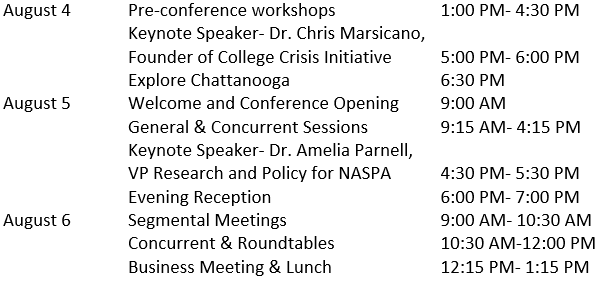 Pre-Conference Workshops
Three pre-conference workshops are available this year! Pre-conference workshops are not included in conference registration and cost an additional $40 to attend.
Introduction to Logistic Regression – Rion McDonald, Director of Institutional Research at University of Tennessee Martin
Logistic regression is one of the most widely used statistical techniques in the field of predictive modeling. This is because it is well-suited for analyzing and predicting dichotomous/binary outcomes, which are found often in higher education (such as retention or graduation). This workshop is intended to cover the fundamentals underlying logistic regression models, with a focus on interpreting model results, producing education-related predictions, and assessing predictive effectiveness. A case study using actual student data will be examined, and attendees will have the opportunity to work many of the concepts discussed. Knowledge of a specific statistical software package is not needed; however, experience using mathematical formulas in Excel is preferred.
Introduction to Power BI- Jeff Tinley, Director of Institutional Research at Roane State Community College
PowerBI is a visual analytics tool included in the Microsoft 365 suite that can be used to create and share interactive dashboards and reports. In this pre-conference session, participants will learn how to use PowerBI through the creation of a course success dashboard. Using grade, course, demographic, and instructor data modeled on data from Banner, participants will create a PowerBI dashboard that will disaggregate course success data, visually represent equity gaps, chart course enrollment trends, and allow users to explore the data and answer other questions regarding student performance at the course level. By creating this dashboard, participants will learn how to load and transform data, model data, create simple measures in DAX, layout visuals, and share their dashboards. Considerations of data security, best design and modeling practices, and end-user training will be discussed throughout the session. Following the instructional session, PowerBI users from different institutions will present and discuss examples of dashboards that they designed and how they have been used within their respective institutions.
Welcome to Institutional Research! A Newcomer's Guide to IR- Matt Rehbein, Director of Institutional Research at Lipscomb University
This workshop is intended for those who are new to the field of institutional research. Participants will develop a basic understanding of the roles, responsibilities, functions, and practice of institutional research. Special attention will be given to the changing nature of the IR profession and how new professionals can influence their organizations. The session will include a panel discussion with institutional research practitioners at different stages of their careers. Participants will discover resources and networking opportunities that can enhance their professional skills and development in IR.
Registration Details
The conference will take place in person at the Chattanoogan Hotel. Early registration is available now and runs through July 7, 2021. Early registration is $120.00. After July 7, the conference registration will cost $145.00. Please use the link below to complete the registration form.
After submitting the registration form, you may pay the registration fee via PayPal or check. The conference registration includes annual membership fee for TENNAIR and all sessions. Pre-conference workshops are an additional expense of $40. Hotel reservations will need to be made separately.
Click here to Register for Conference
Becoming a corporate sponsor presents you the opportunity to meet our conference attendees and offer your services to them. We would love the opportunity to partner with you for the 2021 TENNAIR Conference.